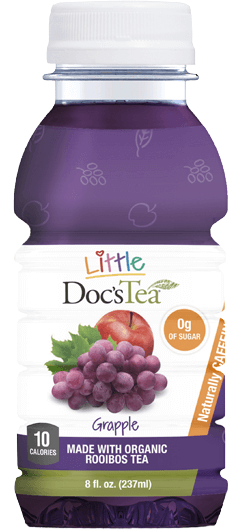 Inspiring Healthy Habits for Life!
"The newest addition to the Doc's Tea product family, our Grapple Little Doc's is the perfect size for the little people in your life. Brewed in grape and apple, lunch-box sized friendly and bursting with flavor - ZERO grams of sugar never looked so sweet!"""
Roobibos Tea: Cultivated from the South African Red Bush and known as "red tea," rooibos is a naturally caffeine free herbal tea leaf with a sweet taste that is great for the entire family.
Monk Fruit: Luohan guo, known as monk fruit, is a melon sized fruit grown on the mountain slopes of Asia and is treasured for its unique, low calorie sweetness.
Grape + Apple: It doesn't get any better than rooibos tea brewed with two of the most popular kids fruits! A naturally sweet treat!